Originally drafted on July 16, 2011. This is part of a new series where I clean out my Drafts folder.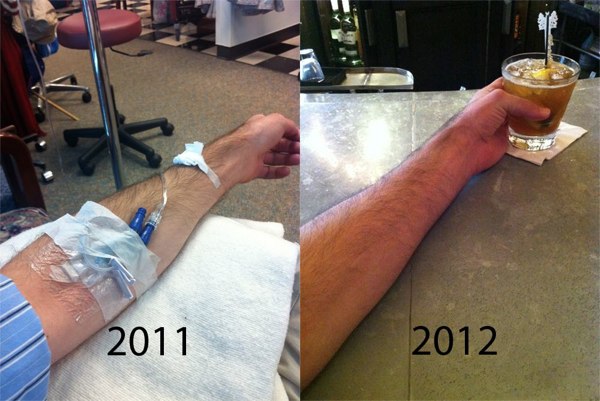 Smile. Big and often. It's your best defense around the swirl of death and depression. Remind yourself that you're young, relatively fit, and survived dozens of idiotic activities as a kid that should have killed you many times over.
Find something to do. Reading sounds fun, but it's hard to follow the words. Same with movies. Never underestimate sleep. But the real treats are in comedy albums. The laughter helps. Music is great as well. Shuffling through albums you haven't listened to in years is always enjoyable. Try to find something new though. An anthem makes all the difference in the world and it'll be yours forever.
Learn the nurses names. Learn which know how to put in a needle and which are receptive to your charm. Realize how lacking you truly are in the charms department.
Don't eat your favorite foods. Don't even think about them. The last thing you want to do is pick up a peanut butter & jelly sandwich 10 years later and put it down because it still reminds you of throwing up. Don't try to eat healthy either. You're already going through hell, why exacerbate it with vegetables? Eat whatever calories you can shove down and move on.
On a personal note, Kale can go fuck itself. It holds a special place in Hell along with Quiche now.
Don't be a bitch. Accept help when needed and don't be afraid to ask, but find goals to accomplish for yourself. It's amazing how empowering it can feel to do your own laundry or drive yourself to and from chemo every day. You can't do everything alone though. Lean on your friends and family. If you don't have any, get in touch.
Keep your head up. You got this shit.