I recently had some interactions with two online companies, Livefyre and Reinvigorate. Try and guess which company adopted the Zappos model and turned me into a customer for life.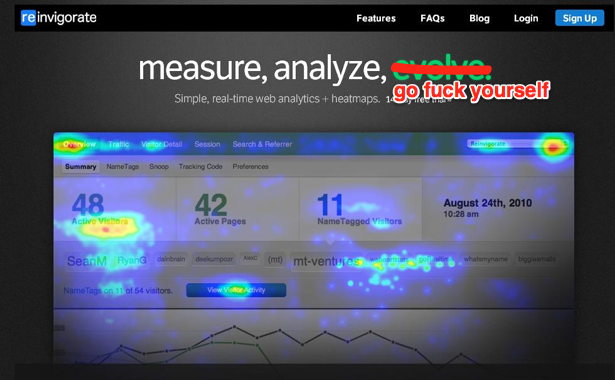 One of the things that I'm always toying around with on my sites is traffic tracking software. Google Analytics is king, mainly because it's free and has a million features, but there are other companies that track a bit more than Google does. Clicky is my personal favorite and I'm currently testing out Chartbeat, but last year I gave Reinvigorate a try.
Do yourself a favor and stay away from Reinvigorate.net.
Their statistics were okay, at best. I paid for a year-long account in October 2010 because I wanted to try their heatmapping. I found it lacking and decided the limited information wasn't worth the cost or extra time it took people to load the javascripts, so I deleted the tracking code and thought that was it.
You can imagine my surprise when my credit card was automatically renewed in October 2011 for another $100 year long subscription with nary a warning, email, or a notification in my user dashboard.
I promptly contacted their customer support, explaining that I had no idea that all accounts were automatically enrolled in auto-renewing subscriptions and that I didn't even use the service anymore.
My credit card was charged in late October for a yearly plan, however I didn't intent to continue using Reinvigorate. I never received a notification or reminder that my account would be auto-renewed as the date approached. However, I canceled my account on November 18.

Is there any way I can receive a prorated refund for the 11 months I won't be using Reinvigorate?
Their response:
Unfortunately, our system don't know how to do prorating. You are entitled to continue using our service till the end of what you paid for.
–Nick
Oh, well that's nice that I'm entitled to continue using something that I unwillingly paid for. I'm glad that option is still on the table.
When I replied stating that it seemed silly to blame the lack of a refund on "the system" instead of a decision that somebody in the company obviously made, I was told:
I Empathize with your situation. Unfortunately the system does not allow for this kind of refund. Your complaint has been noted. I am going to suggest that we send out emails a week or so before renewal in the future.
–Nick
A suggestion. I can't even get a guarantee that other schmucks like me won't get screwed in the future. Instead I get my complaint noted and a suggestion. Awesome.

I first heard of Livefyre last summer while mindlessly surfing the Internet during chemo. For the uninitiated, it's a comment-serving company that basically takes over a websites commenting system and ramps it up. It had all sorts of bells and whistles, but the biggest thing that caught my eye was the fact that all comments were stored on both my local server as well as theirs. This was a huge difference between most of their competitors and what it meant was that you were free to leave at any time. Not many companies make it easy to stop using their services.
Flash forward to a few months ago. Guest comments were now available, further features were added, and so I made the leap on Hey, It's Free. Almost immediately there were problems. I guess that's bound to happen when you have close to 70,000 comments to import. I sent a message to @Livefyre on Twitter and almost immediately received a reply asking me to email them. What followed was a series of emails between myself and Jeremy, a Livefyre employee, that give Moby-Dick a run for its money in terms of word count. At one point even a few of their engineers got onboard to fix the problem.
And I haven't paid Livefyre a dime.
It's a free service they offer. They do have a professional version, but that looks to be aimed at large clients and websites. Folks like you and me are offered their service, and their support, free of charge.
I wish I could force Reinvigorate to forward that $100 of mine over to Livefyre. If Livefyre ever releases a mid-level package, I'll be the first guy to sign up. The amount of time and headaches they saved me, not to mention all the features they now bring to HIF, are almost incalculable and yet they not only offered their service for free, but thanked me for my patience, joked around with me in emails, and responded to my questions with such a speed typically reserved for those on their deathbeds.
One company takes money and tells me to fuck off. Another offers a boatload of support and then thanks me for using their free product. Guess who's doing it right.